The first half of the tour's photos are on a second page, here.

__________________________________________________________

Powell's Books, Beaverton (Portland) OR


My Portland roadies! Or more specifically, Powell's in Beaverton. We had a wonderful crowd despite the agonizing traffic due to 23 being shut down. Both Richard Kadrey and I were late, but everyone was so patient and all the books were signed.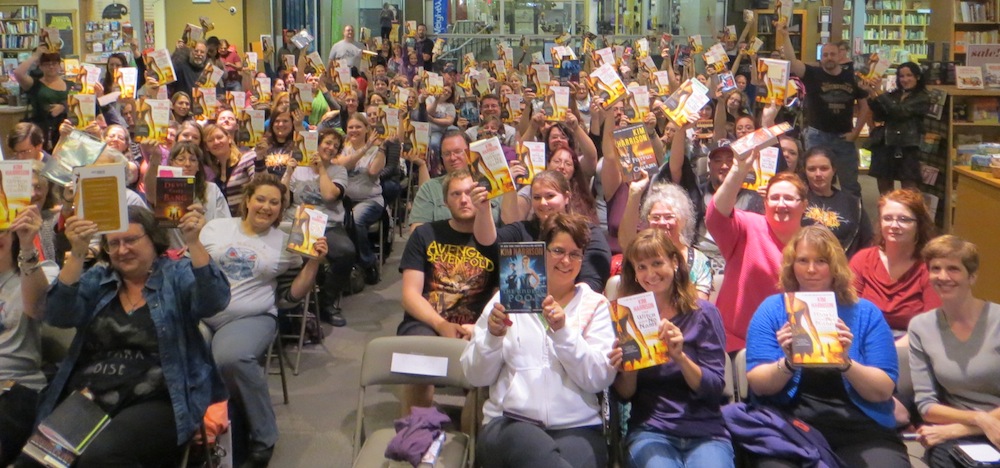 The crowd, showing off their copies. We're a few weeks out from the drop date now, and everyone is being really good about no spoilers in the Q&A, but I'm fielding more at my table when I sign. (And that's ok!)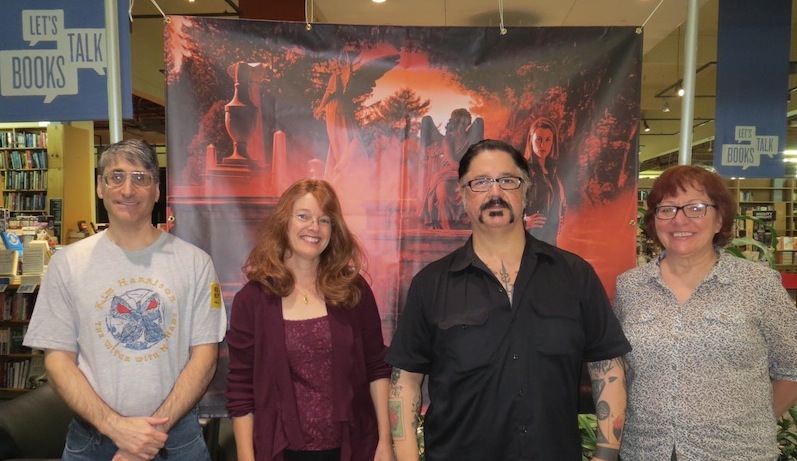 Peter, Me, Richard, and Renee. If you're even in the Beaverton store, they'll help you find what you need. They run a fabulous event. I left lots of signed stock, so if the traffic killed your plans, they do have a signed book, first edition!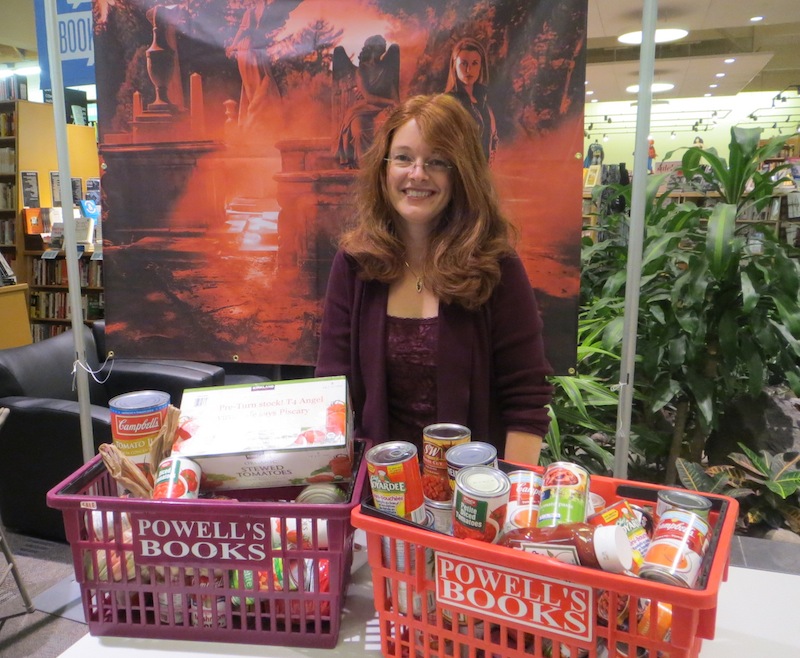 Thank you so much for your generosity. These will be going to a local food bank. It is amazing the smiles I see when you are dropping them off. You guys are truly the best.
__________________________________________________________
Tattered Cover, Denver, CO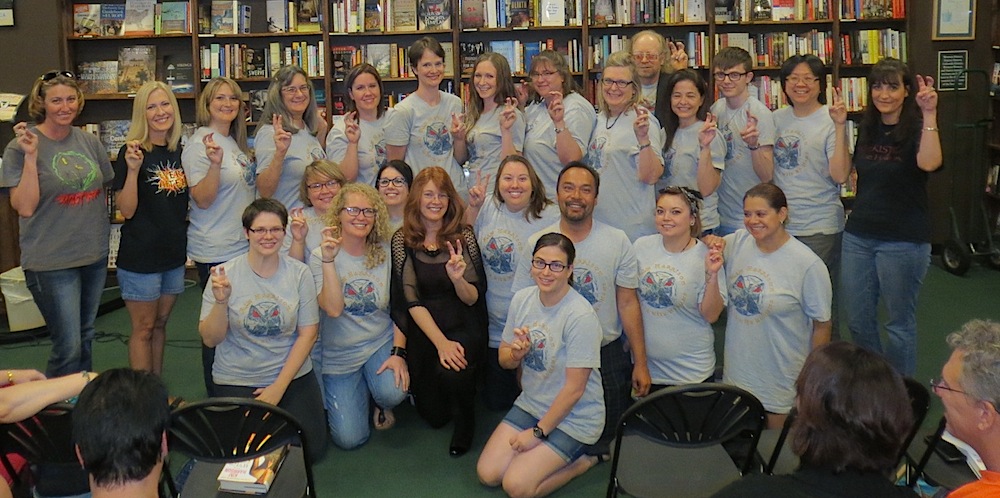 Getting back to Denver was a real treat--especially when it was in the high 80s, and not a blizzard. I left lots of signed stock, so if you want one of these bad boys, They have them! (Just click for the high res copy.) Richard Kadrey (The Gateway God) was signing with me again, and we had a great time contrasting our writing styles.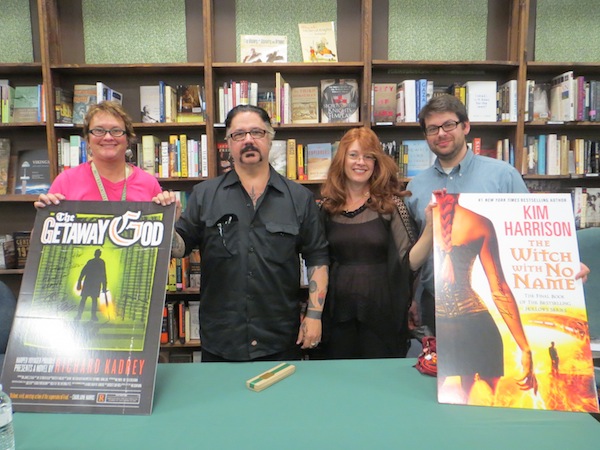 Lisa, Richard, Me, and Michael, who helped keep the line moving smoothly. Thanks, everyone, for a great signing. I hope to come back again--when there's no snow. I like that part.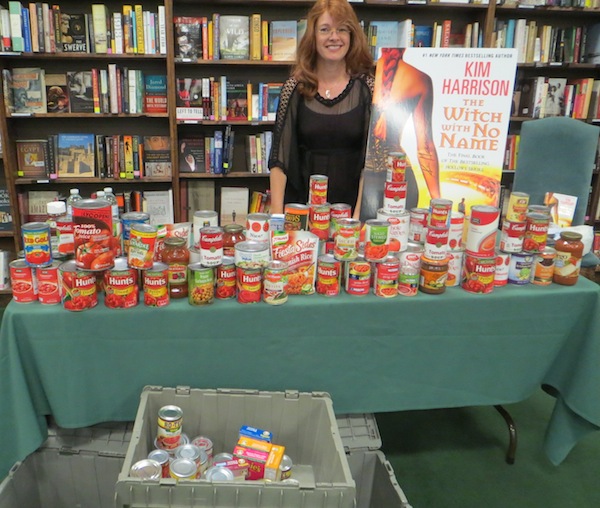 And again, you blew me away with your generosity. The canned goods will be going to the Highland Ranch food bank. Thank you so much. I wish I had thought of this years ago. You guys are the best.
__________________________________________________________
Copperfield's Bookstore, Petaluma (San Francisco) CA
I'd never been to the Copperfield books in Petaluma, just outside of San Francisco. Apparently you guys are known for your chickens and arm wrestling. A strange combination, but somehow . . . comforting to my midwestern sensibilities. Here I am with my roadies! Even a few from past tours! Just click the photo to go to the high resolution copy for yourself. :-)

Richard Kadrey and I shared a stage again, and the Q&A was heavy on the writing questions. I like doing joint events for just this reason. You can tell people that everyone writes different and what works for you might not work for them, but having two authors contrasting their methods really brings it home.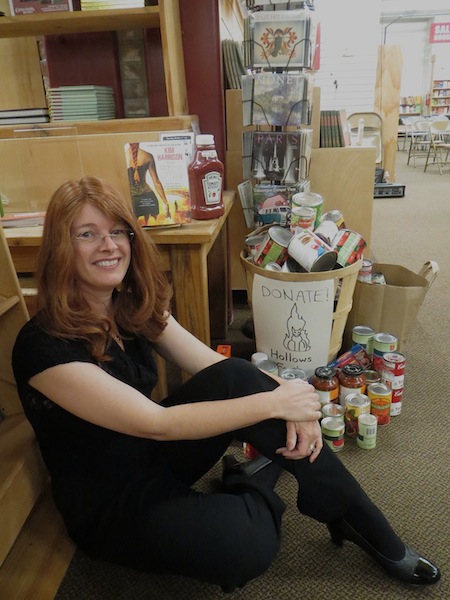 Which was reflected in the tomatoes that you left behind. Thank you again for the wonderful out flowing of generosity. These will be going to a local food bank, which will probably be scratching their heads over all the tomatoes, but hey! It's a Hollows thing.
__________________________________________________________
The Poison Pen, Phoenix, AZ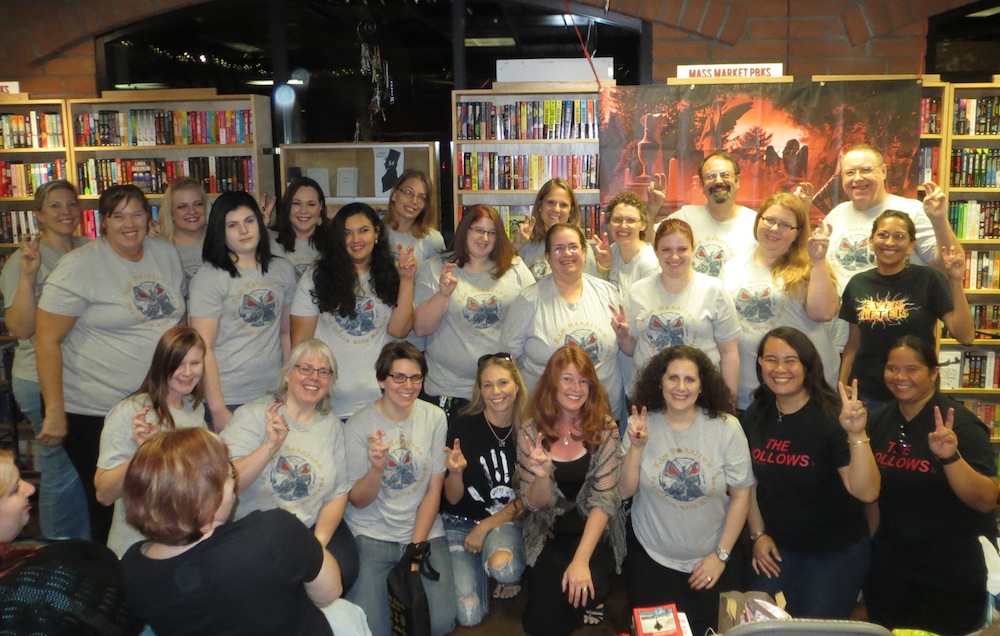 My Poison Pen roadies! I was shocked at the number of t-shirts. You guys never fail to amaze me. I'd never been to Poison Pen before, and that usually translates into a smaller crowd, but apparently Phoenix is a great place to visit because you came from all over. Richard Kadrey was signing with me as well, and that never hurts! :-)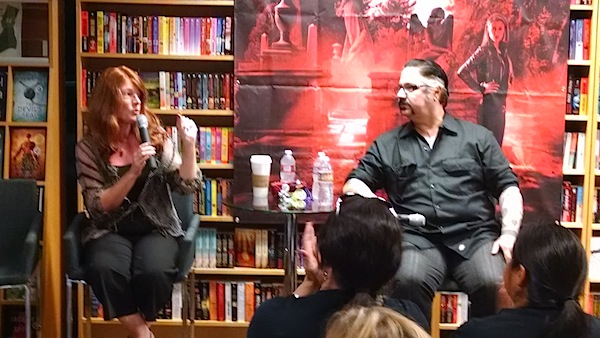 I had the chance to meet Barbara, the owner of Poison Pen. That's a real treat! Both Richard and I left lots of signed stock, so if you missed the signing and want one of those first-edition, blue butterfly books, they've got 'em!
Unfortunately the picture of the tomatoes didn't turn out well as it was already in the trunk and on the way to the food bank before I knew it, but you guys came out in a wonderful fashion, and I heard there was over a hundred pounds of food that we were able to give to the local food bank. Your generosity never fails to amaze me. Thank you, guys. You rock!
__________________________________________________________
Jean Cocteau Cinema , Santa Fe, NM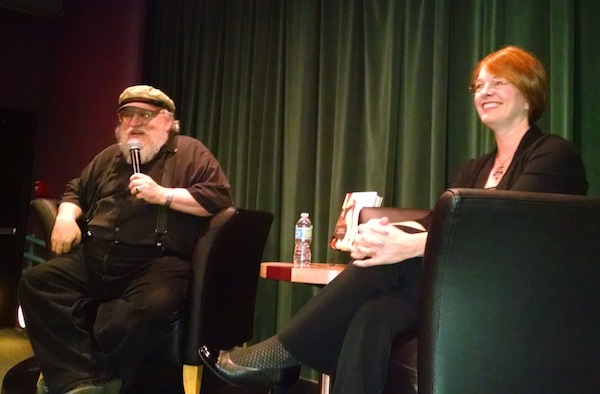 Yep, that's me and Mr. George RR Martin as he warms up the crowd at his theater in Santa Fe, the Jean Cocteau Cinema. It is an intimate theater, with a live bar and attention on the details. Just beautiful. It's encouraging when something loved is restored and honored, and that's exactly what happened here. If you get the chance to catch a flick at the theater, do so! But there was no film that night, and George and I chatted for a while before we opened up the floor for Q&A and then the signing in the lobby. It was one of the more pleasant places I've signed at, and yes, I left signed stock! They have a great selection of signed stock from a lot of authors who have passed through before, so if you're in the area, drop the address into your GPS and check it out.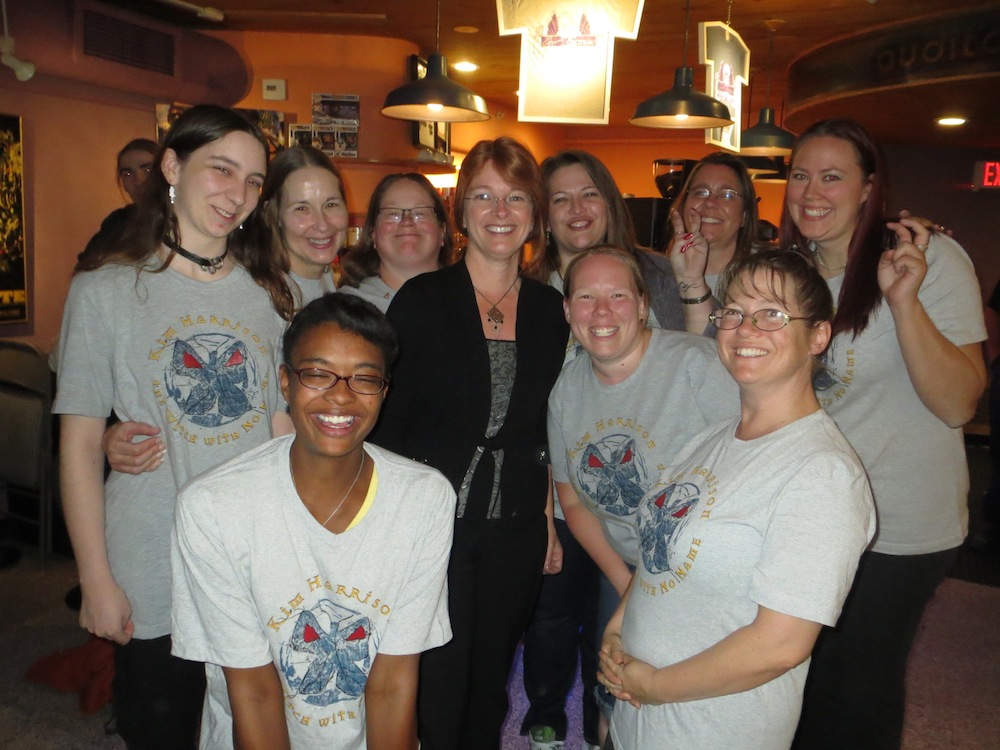 And I had roadies! Thanks guys for waiting until the end so we could get that all-important shot. Just click the image to get to the high res one for yourself.
It wasn't advertised as a tomato donation spot, but George assures me that they will get to the local food bank. Thank you for bringing them out! I hope I can come back when Peri comes out. We'll do the tomato thing up right!
__________________________________________________________
New York Comic Con, NY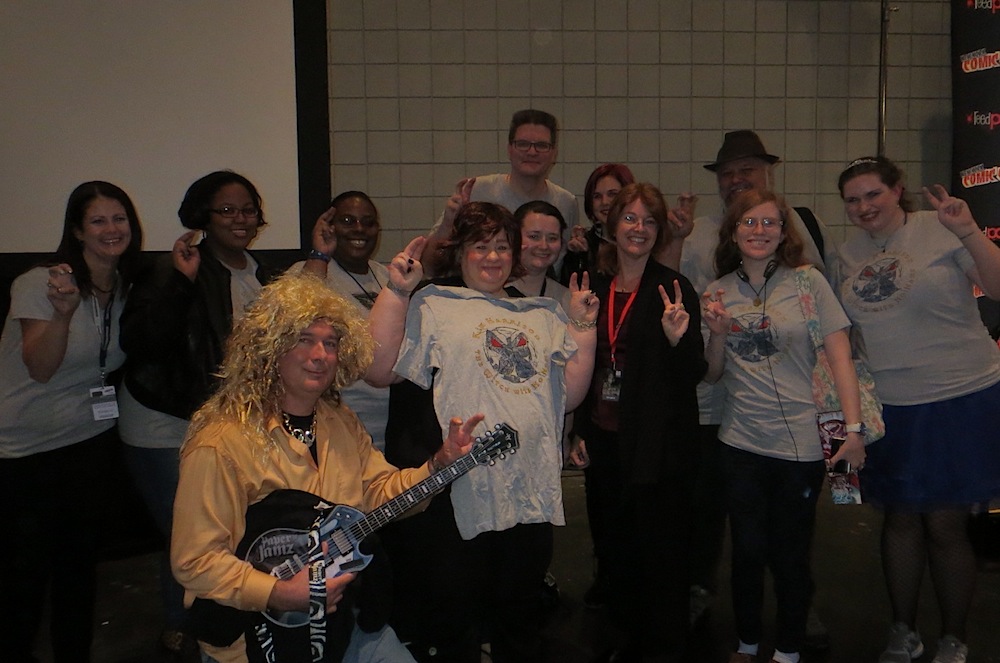 New York Comic Con! I'm still trying to decide if I like NYCC or SDCC better. I think I need to go to each one at least one more time before I can even think to make up my mind. My first panel was a spotlight panel, where I was "interviewed" by my longtime friend in the biz, Mr. J. We even had time to get everyone with a tour shirt up for our family photo. (just click for the high res shot for yourself)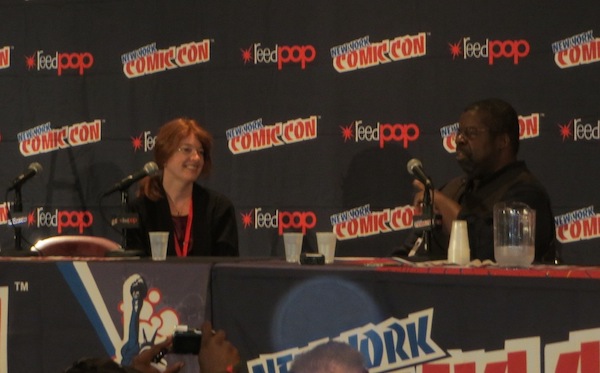 Right after was the first of two signings. And as you can see below, there was even some Takata cosplay. :-) I didn't take nearly enough pictures. Wow. Too much to take in. I'm glad it wasn't my first time at NYCC and I knew all the places to hide out and maybe eat.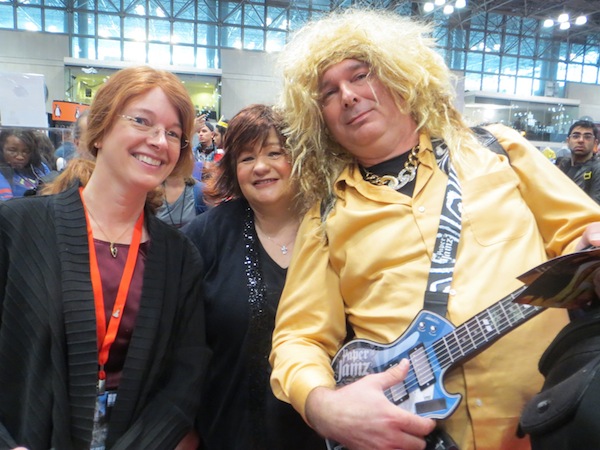 He nailed Takata. Just nailed it!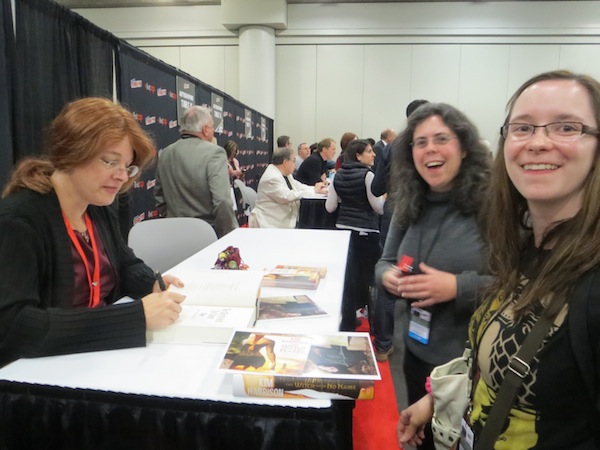 __________________________________________________________
Barnes and Noble, Dallas TX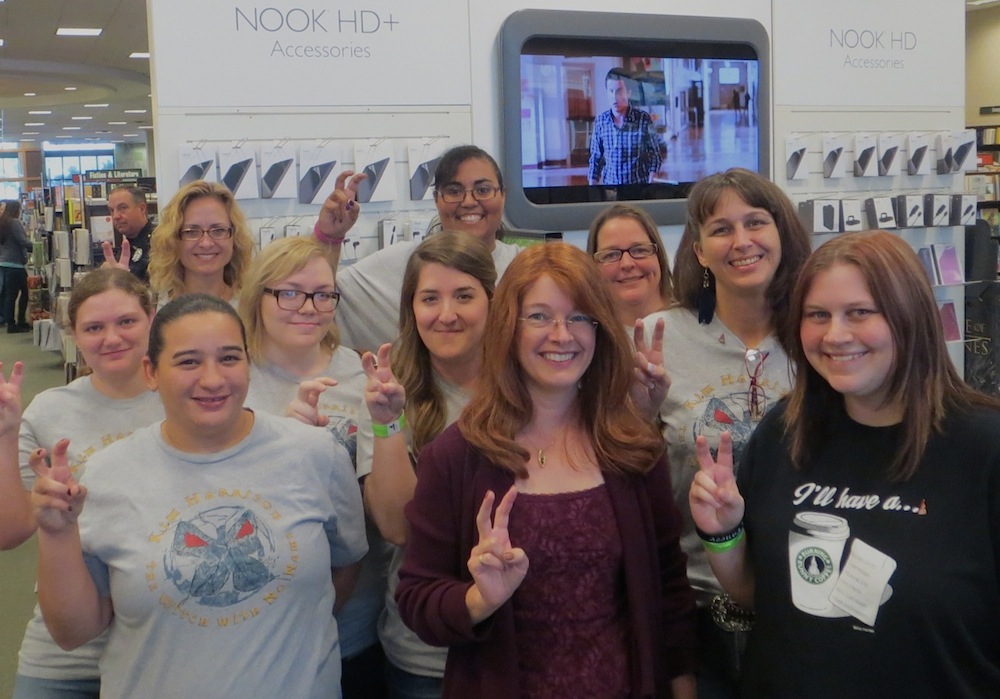 Barnes and Noble at Firewheel just outside of Dallas was great! I'd never been there before, but the roadies came out. :-) It was a bit of an unusual signing as there were 21 authors there, all of us in town for the Buns and Roses literacy tea. Just click the picture to go to a higher resolution one for yourself if you're among the smiling faces there.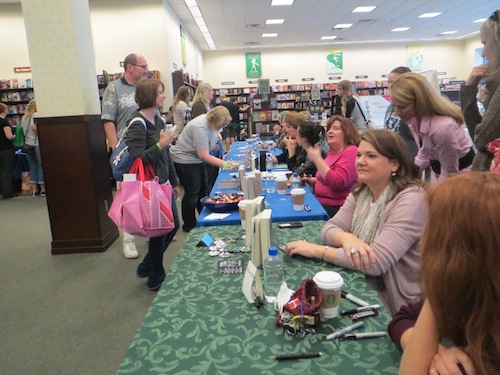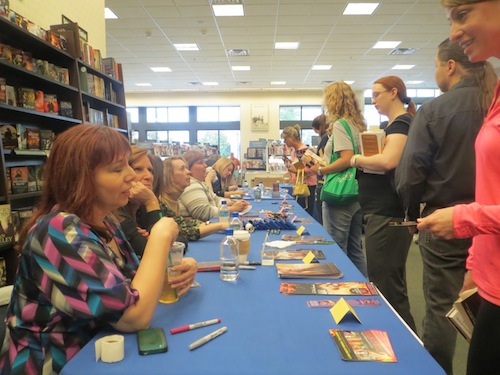 As I said, there were 21 of us there that day, which made it a unique event. The store has done this before, and everything went very smoothly, and it was fun having all that excitement. Above, here, is one wing of authors, and below is the second half.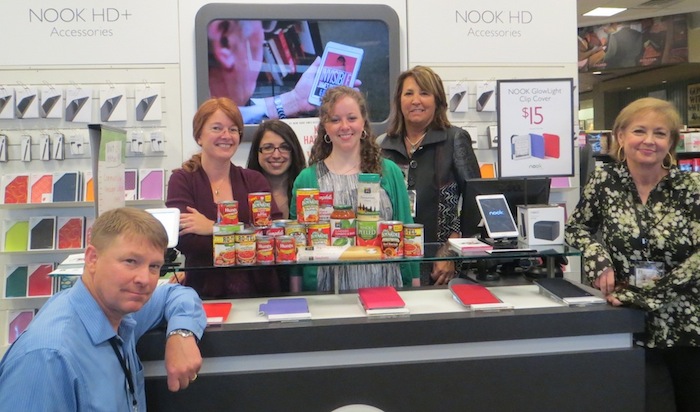 It was a designated tomato stop, and I think we collected enough to have dinner, and then some. Here I am with the everyone at the store that day. Thank you, everyone who came out and brought a can. These will be going to the Rockwall Helping Hands.
__________________________________________________________
Buns and Roses Romance Tea for Literacy, Dallas, TX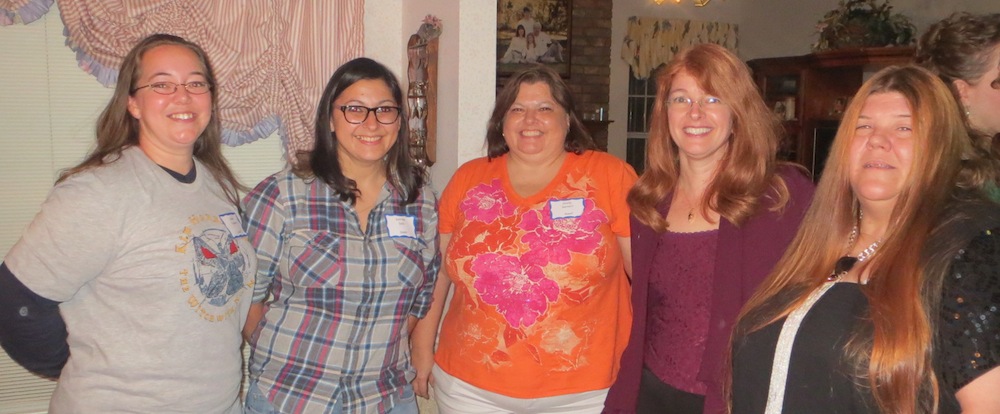 The Buns and Roses literacy tea was two days of readers and authors getting together in all sorts of venues. After the formal book signing at Barnes and Noble at Firewheel (where I left lots of signed stock) there was an informal get-together for a light dinner where I had the chance to spend time with a few readers.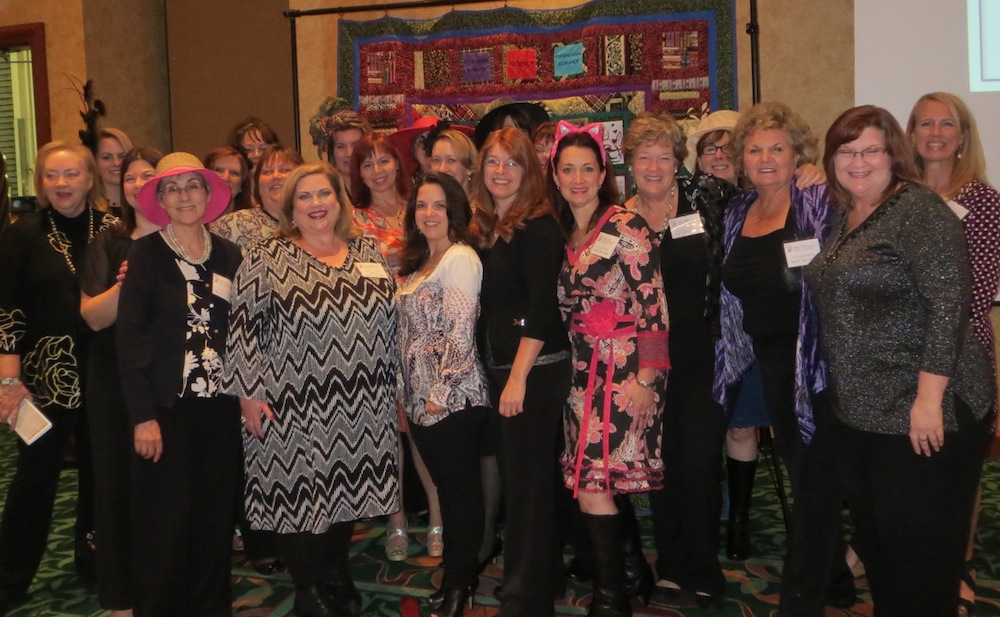 The next day, though, had us at the convention center. I love this picture of all the authors attending. This is the ninth year, I think, of the Buns and Roses literacy tea, and it was amazing. If you ever get the chance to go, do so! There is a silent auction as well as a live one to auction off wonderful stays and retreats. Not to mention the B&R bears!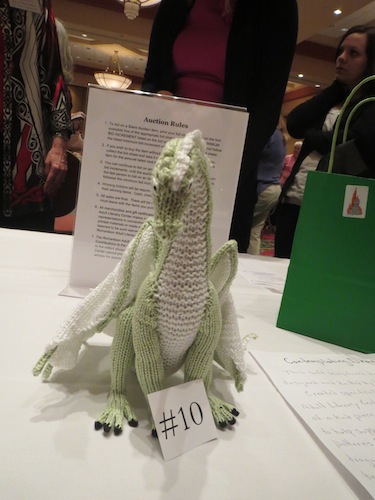 My dragon went for a humbling price. I do believe I will do this again for the Monarchs.
__________________________________________________________
Books-A-Million, Tulsa OK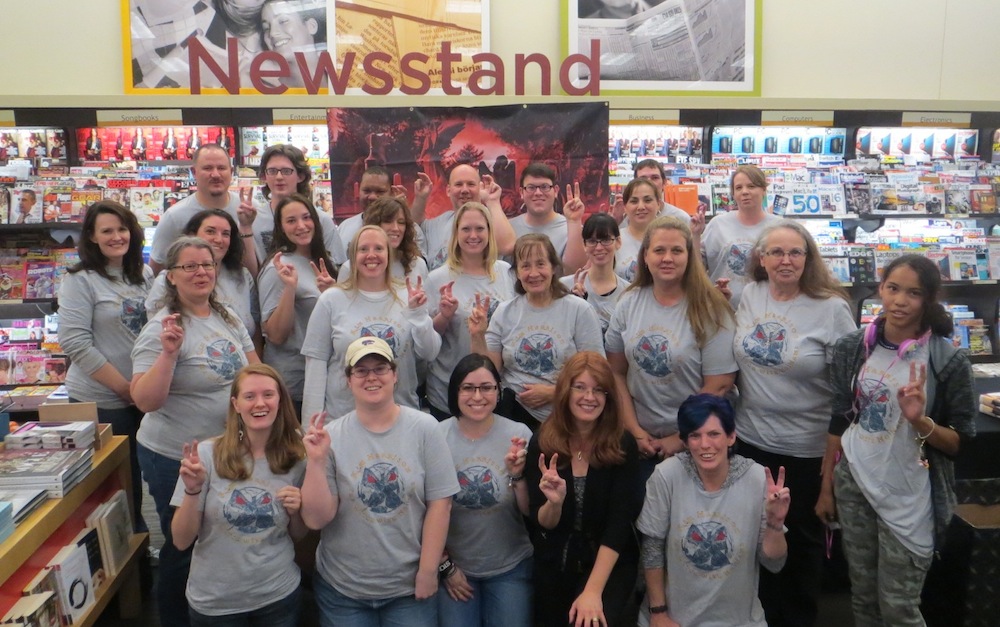 I had tons of roadies coming out to get their book signed at the Tulsa BAM! Thanks, guys. Sorry it took me so long to get the pictures up, but there's a high res shot right behind this one. Just click to get to it.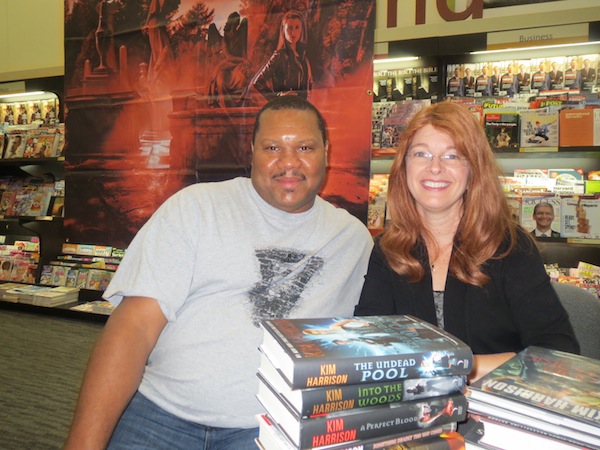 Sandpanther! I almost didn't recognize him, but it was great to have him come in so I could sign his books.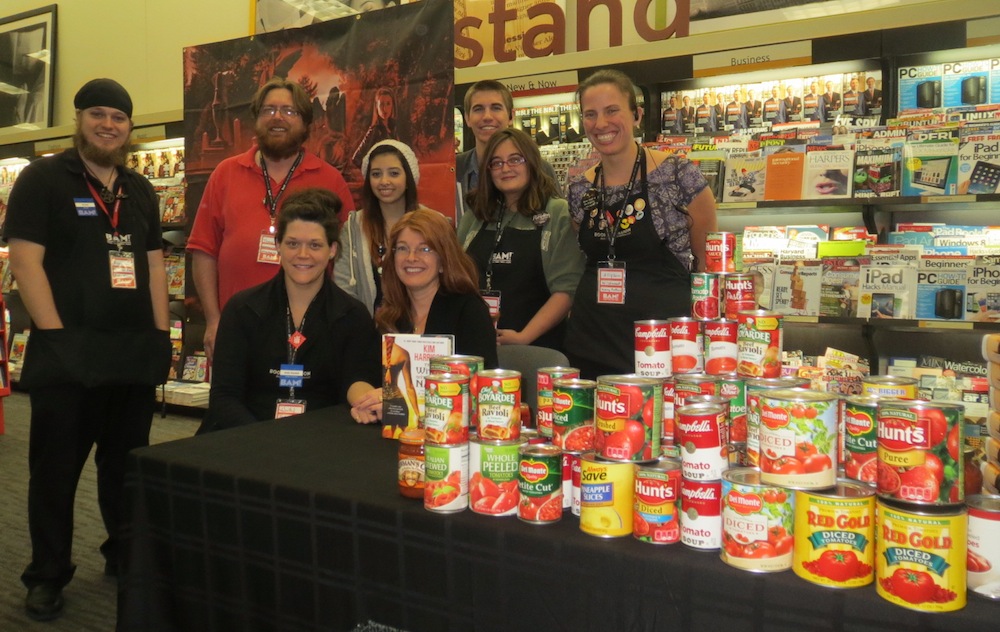 We had tomatoes! You guys really came out in a big way, bringing me tomatoes upon tomatoes! I think I'll bring a scale next year. This looks like a couple hundred pounds to me. Thank you so much. You guys are so generous. These will be going to the local food bank.
__________________________________________________________
Murder by the Book, Houston TX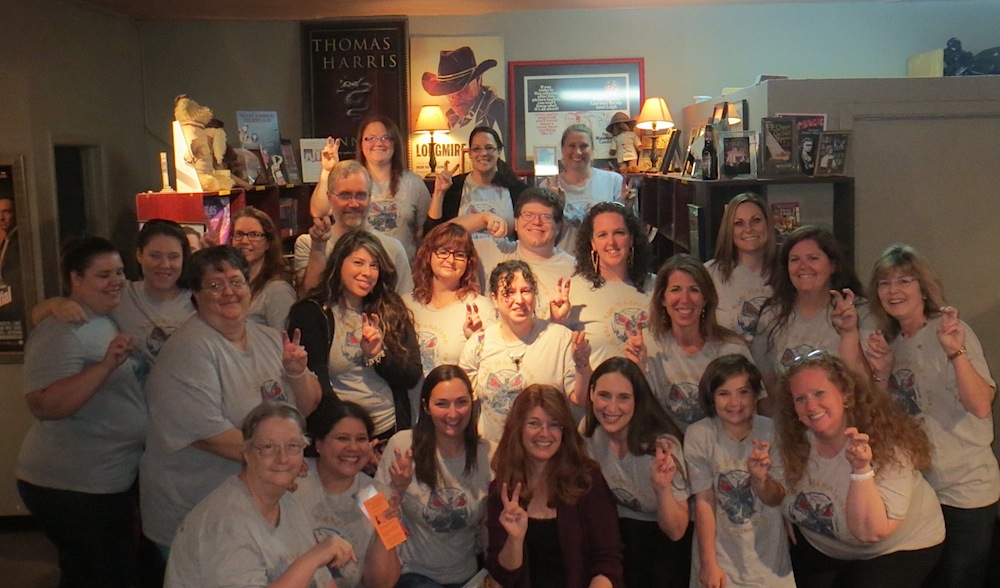 My Poison Pen Roadies! Guy doesn't remember sending all the T's to Houston, but there they were! Thanks for coming out, Guys. It's so gratifying to see all your smiling faces. Some of you are, ah, starting to look familiar . . . (laugh)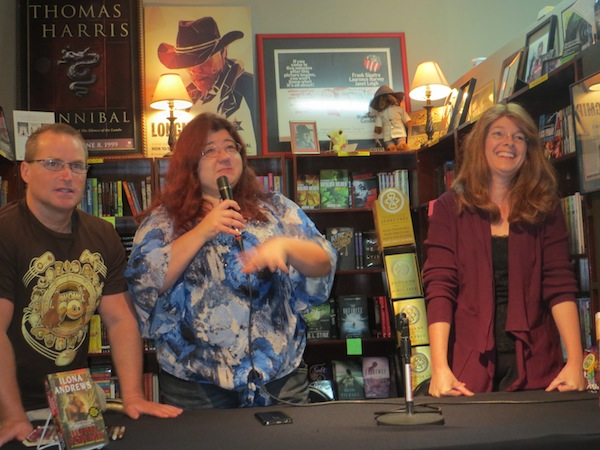 I was able to share the spotlight with the writing team of Ilona Andrews, which, if you haven't heard, is a husband and wife team who write urban fantasy. It was their release day, and I was honored that they let me sign with them. We had a great Q&A.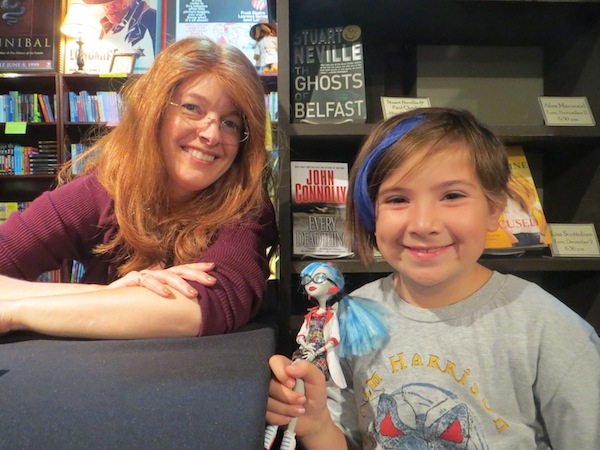 This is why I'm glad I write young adult as well. :-)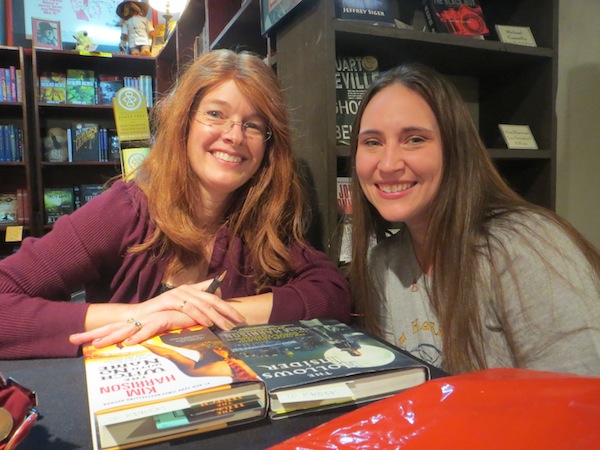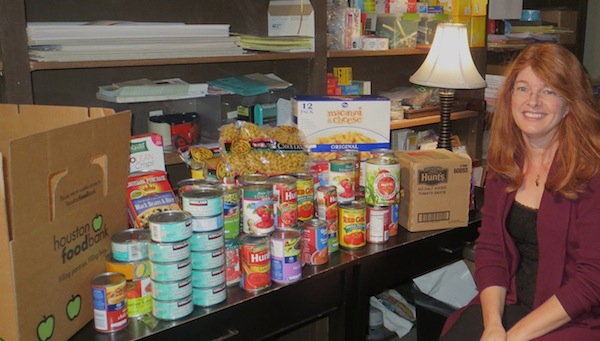 The Poison Pen really got behind the Hollows tomato drive and collected cans/nonperishable's all week for the Houston food bank. Thank you, everyone who brought out tomatoes! Your generosity never fails to amaze me. :-)
__________________________________________________________
Nicola's Books, Ann Arbor (Detroit) MI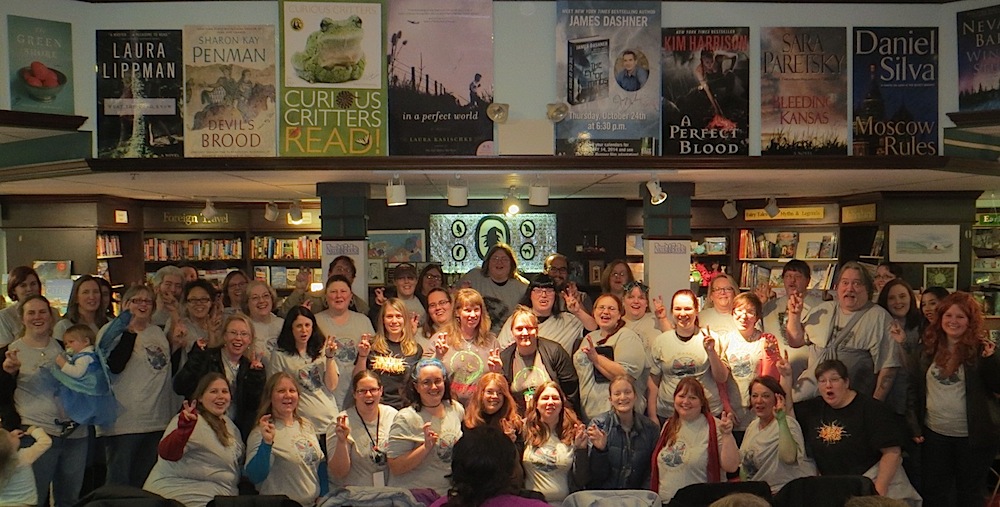 Tink loves a duck! as Jenks would say. We had a great time at the last Hollows event in Nicola's, Ann Arbor Michigan. Here I am with all my roadies, and what a crowd we had! Lots of familiar faces, even if some of them were in costume. There's a higher resolution photo behind this one. Just click it to get to it, and lift it for your own use.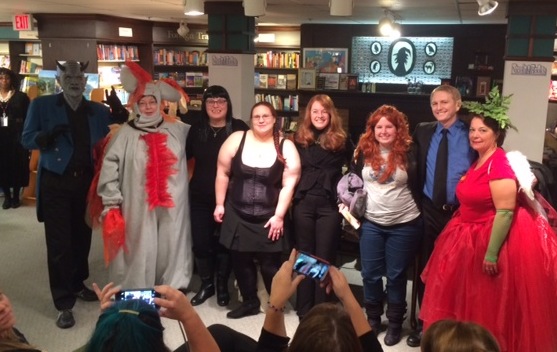 Here are the finalists in the costume contest, but trust me, we had lots of characters roaming the store from David to Sara Jane, to Maria, Editor of the Hollows Gazette. Pictured here from left to right is Al, the burning bunny, Ivy and Rachel, me, Rachel and Trent, and yes, even the dreaded T4 angel virus, complete with wings. :-) You can see more of the costumes below in the bunny cam photos. There's even a Mr. Fish.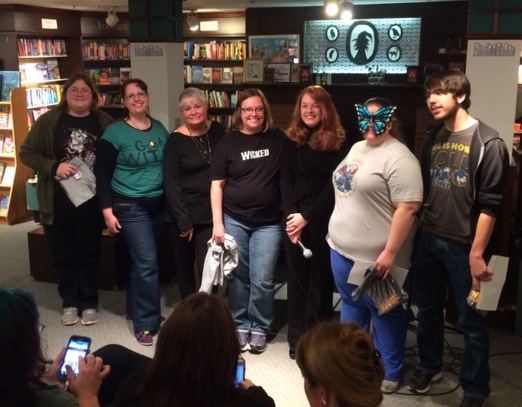 Here are my scrip readers! I tried something new and took three pages from The Witch With No Name, and six brave souls read them. I don't think I've smiled that much in a long time. Thanks, Guys. You totally rock!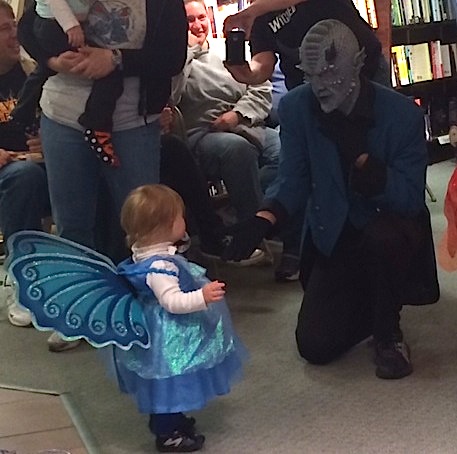 Al comes face to face with his blue butterfly. :-) Neither one knew what do do.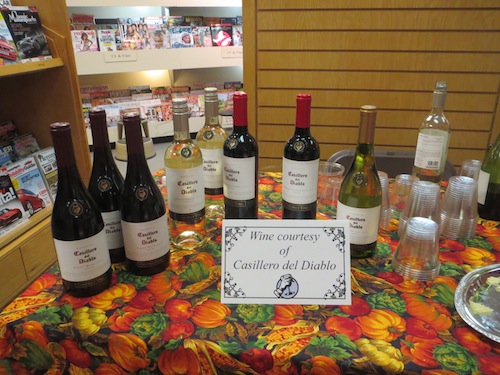 We had cookies, a tattoo station with Rachel's pack tattoo, and yes, even wine tasting!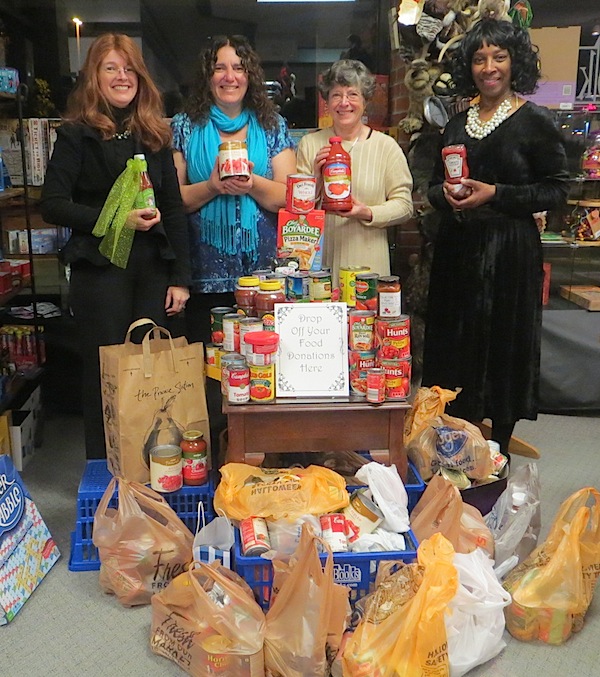 My jaw just about hit the floor when I finally signed every book and made my way up to the front where the canned food had been collected. I think I just about cried. You guys are truly the best. Everything you brought in is going to go to the Ann Arbor Food Bank. Thank you so much. Your generosity is humbling. This is me and some of the ladies running the event, Lynn, Nicola, and Pat (my book hero who handled all the pre-ordered books you guys purchased.)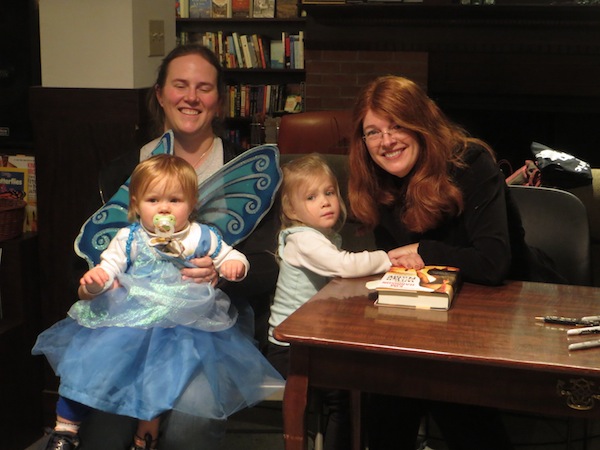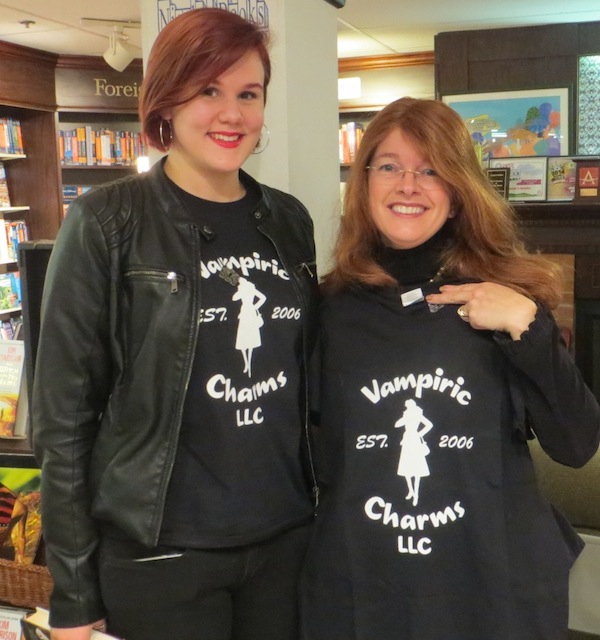 Bunny cam photos! These are the ones you take for me. This afternoon, I'm putting the bunny cam away for a good, long, much deserved rest until next year. I'm not sure if I need to rename it now that I'm officially leaving the Hollows and starting on a new adventure.
Maybe not.
__________________________________________________________
- Back to the Event's page -
Nicola's / JoBeth Cincy / B&N Minneapolis / B&N Pittsburgh / Northshire / B&N New York / Ridgefield Library / Boston PL / Quail Ridge / BAM Columbia / Fox Tale / Garden District / Nicola's Books