__________________________________________________________
Joseph-Beth, Cincinnati OH
And so the final Hollows tour starts! Here is a nice shot of my tour bus. (No! Just kidding. It was in town for the game, and I'd never seen it before.)

Actually, I got into Cincy early on Sunday so to avoid that 3 am wake up/flight on Monday. My amazing publicist got me a media spot on Good Morning Cincinnati, and Shela was game to discussing vampires and witches in Cincinnati--though I could almost hear her thoughts when I told her most of the paranormals lived on the Kentucky side of things. ;-) Good Morning Cincinnati *video*

I had time to go to the zoo and check out the African exhibit before the midnight release party. It wasn't open in July when I was in town to do the tunnel spots, and it was pleasant to sit above the savanna eating my fries and pink lemonade, watching the lions watch the ostriches. Ah . . . you guys don't know how good you've got it.

And then the signing. "Mother pus bucket!" as Al would say. The midnight release party at Joseph-Beth in Cincinnati was amazing! I couldn't believe the number of people who came out and lasted until we handed the books out at midnight.

The roadies were awesome. I don't think I've EVER seen so many tour ts in one spot--other than my dining room table, of course. We even had a burning bunny and pixy.

And then there were the tomatoes. You guys truly are the best. They will be going to the local soup kitchen, and are much appreciated. So thank you for making me look good. Honestly, I almost couldn't pick up the one can of tomatoes. The woman who brought it in got a unique set of Hollows bus token earrings that the store made up for extra give always. We won't have them for the other stores, but we will have the totes (which you can see in some of the pictures below) and a couple of tour t's to give away at each stop.
_________________________________________________________
Schuler Books, Grand Rapids, MI
Day two had me back in Michigan at Schulers Books in Grand Rapids. This was the second time I'd been to this particular store, and though we didn't have cake this time, we did have a lot of fun! Here I am with my roadies. Just click the photo for a high res picture for your own use. And thank you guys for coming out on such a perfect, Michigan evening.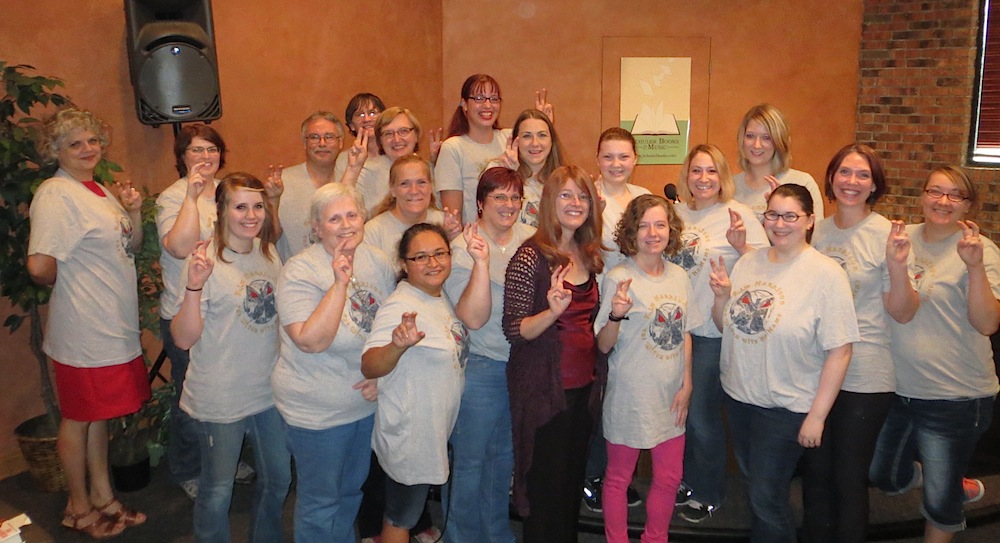 I left a LOT of signed, first-edition stock, so if you missed the event and are looking to snag one of these bad boys, Schulers has them.
_________________________________________________________
Barnes and Noble, Carmel Indiana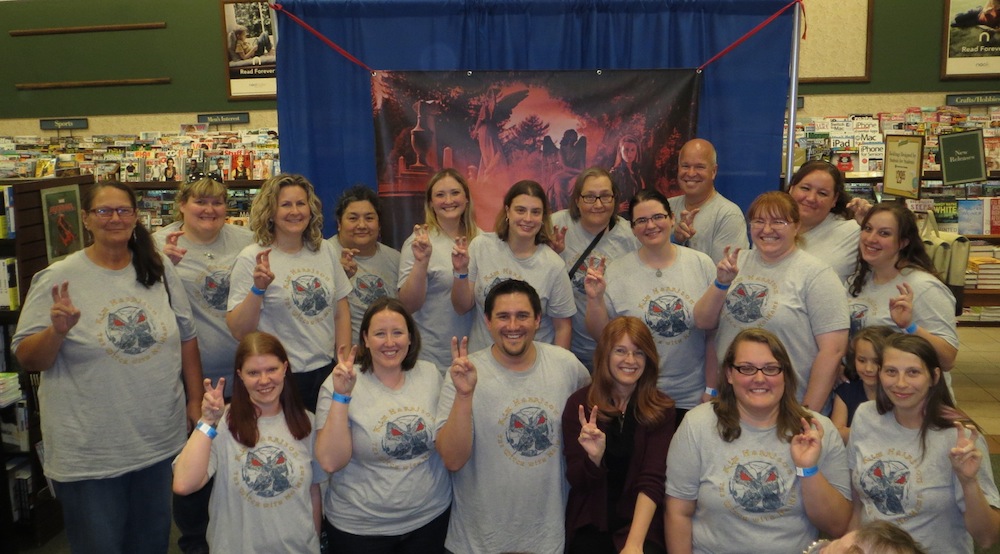 It was a dark and stormy night. Truly, it was. And yet . . . we were having a good time in Carmel Indiana. Here are me and my roadies who braved the weather--some of them for hours!--to get their book signed. I left lots of signed copies, and the B&N in Carmel said they'd share with their local B&Ns, so if you couldn't make it and want one of these signed first editions, they should have them for a while.

I asked for tomatoes, and I got tomatoes! Thank you guys for all the canned goods. They're going to the local food bank and were very well received. :-)
________________________________________________________
Books-A-Million, Hanover MD
Day four, and I'm in the capital! I was a little concerned about the weather, thinking that the storm we had last night's event in would just move east as I did, but it evaporated and the day was beautiful.
First stop was out to Sirius XM radio. I've been a big Sirius XM fan since Guy got me a lifetime subscription about eight years ago, so getting a chance to get to their studios and play tourist was majorly cool. But that was nothing compared to sitting down with Maggie Linton from the Maggie Linton Show. We had a great chat, and I'll let you know when it airs.
And then came the signing! I could not believe the number of familiar faces in the crowd, and the tomato drive brought in a great number of cans for the local food bank. Thank you, guys. You truly are the best.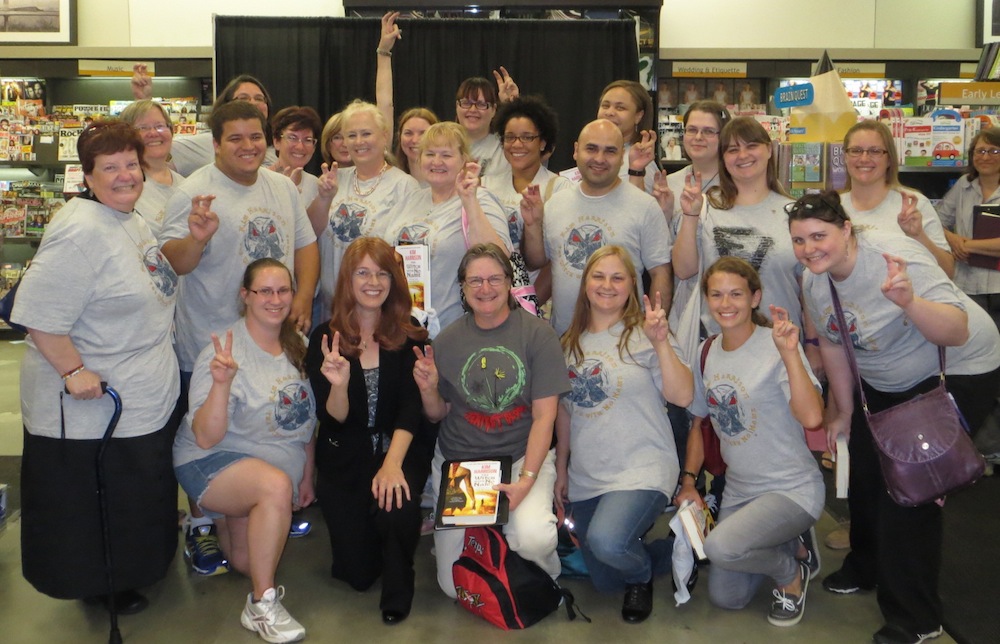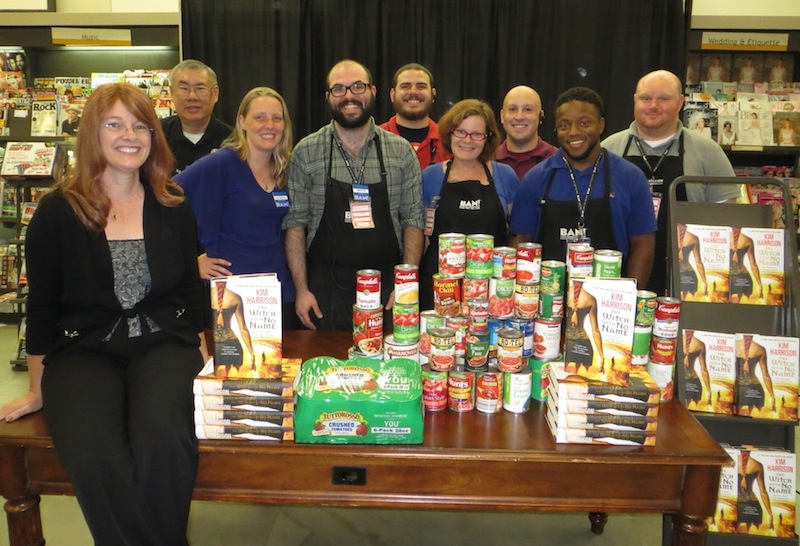 Me and the crew at Books-A-Million at Hanover, Arundel Mills Mall.
__________________________________________________________
Quail Ridge Books, Raleigh, NC
The Quail Ridge readers came out in a big way. Tomatoes, tomatoes, everywhere! Thank you, guys. You truly are the best.

We had tons of roadies from past and present. And even Rachel showed up! Just click for a high res photo for yourself. It was a great signing, and I left TONS of signed first-edition books for them, so if you missed the signing and are in the area, here's your source. :-)
__________________________________________________________
Barnes and Noble, Orlando, FL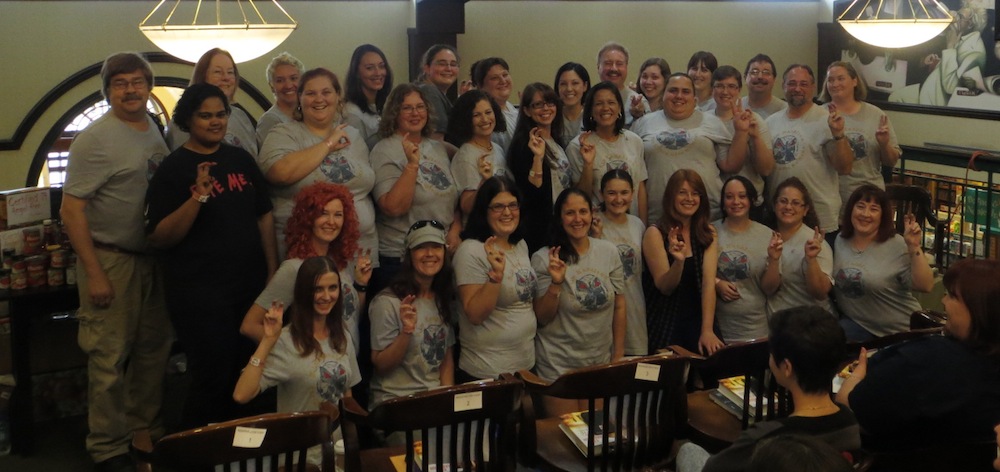 My Orlando roadies! It was great to see all you guys. Thank you for coming on out. It was a huge signing. :-) (Just click for a high resolution photo for yourself.)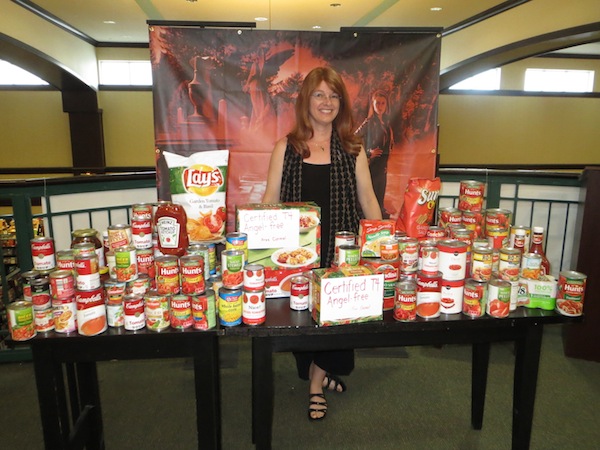 Orlando Barnes and Noble, I do believe you brought in more tomatoes than anyone so far in the tour. This is AMAZING! Thank you, guys. You truly are the best. Your generosity will be going to Second Harvest.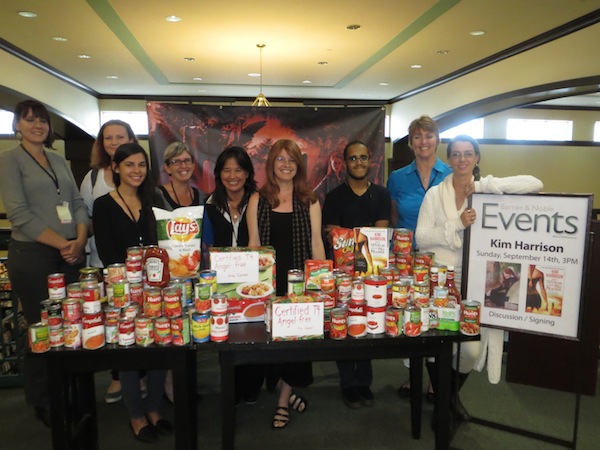 This is me and the crew at Barnes and Noble in Orlando. It was an amazing event. I don't think I'd ever signed in Orlando before, and it was gratifying to see everyone who came out.
__________________________________________________________
Barnes and Noble, Tampa, FL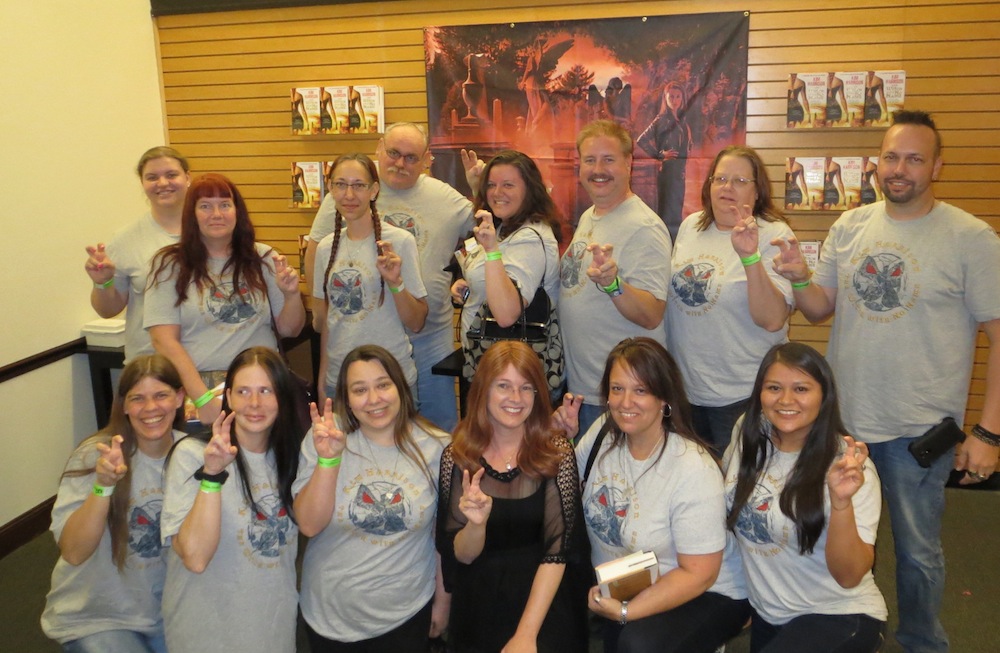 Barnes and Noble in Tampa was fantastic! I had a nice group of roadies with some familiar faces among them. The last time I'd been in the area was way back at a Romantic Times conference, so there were lots of back list titles to sign. I left lots of signed books which they are going to distribute to other Barnes and Nobels in the area, so if you missed the event, it's not too late to get a blue-butterfly, first edition copy.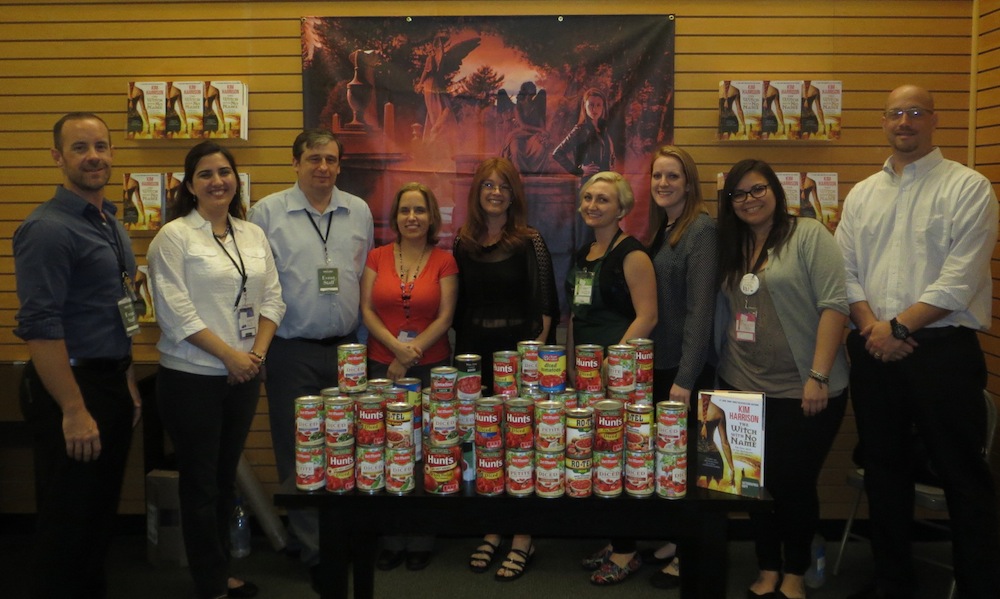 We had a mixup in communication resulting in me tomatoing up the wrong store twice, but we still had some readers bring in a nice batch of tomatoes that will go to the local foodbank. Thank you, guys. You truly are the best.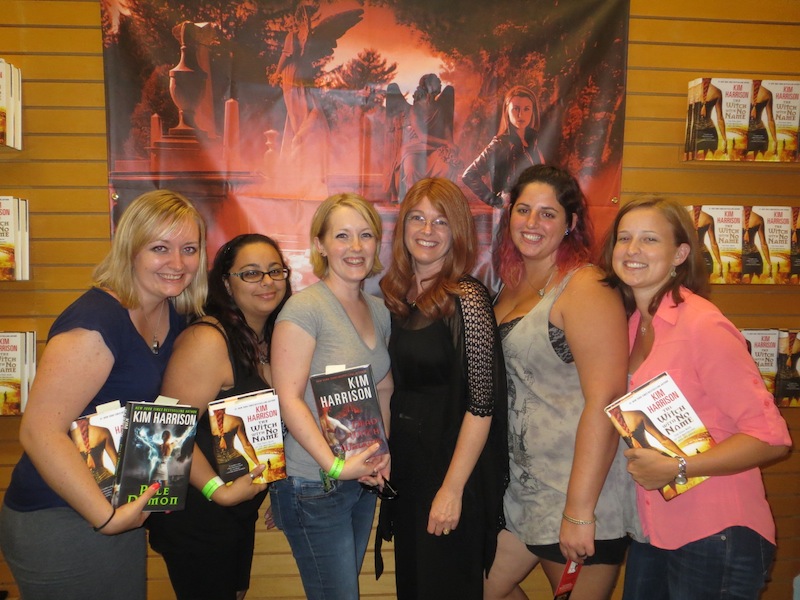 And the bunny cam pictures! Thank you everyone who took a picture for me. It's great to see all your smiling faces.
__________________________________________________________
Joseph-Beth, Lexington, KY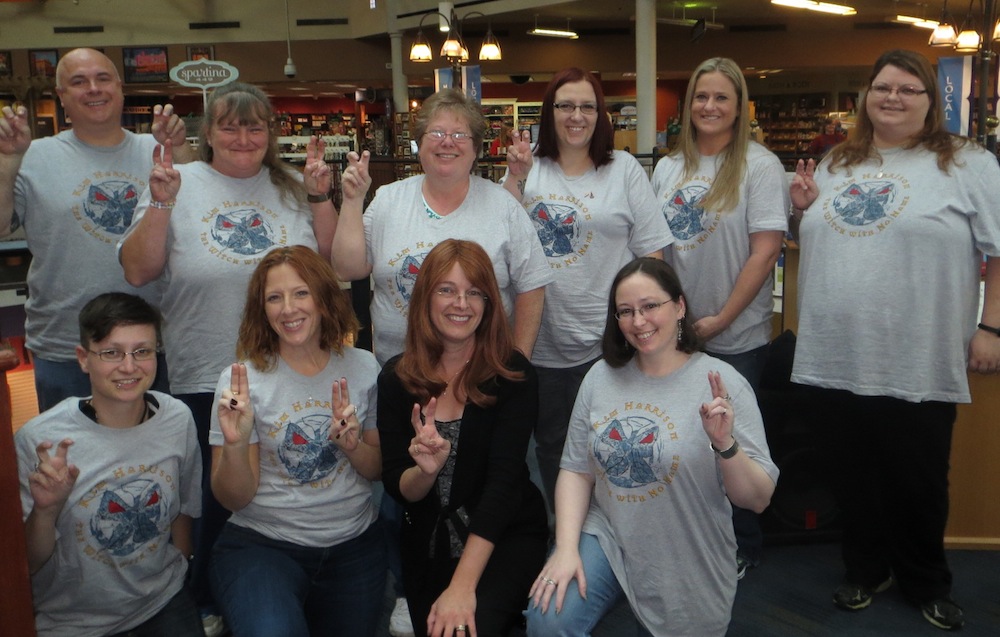 My Jo-Beth roadies! I wasn't sure how a noon signing during the weekday, but you guys came out to get your books signed! Jo-Beth had lots of those first-edition, blue butterfly copies, and I left a bunch of them for you if you weren't able to get out to the event. I was surprised at how many familiar faces I recognized. :-)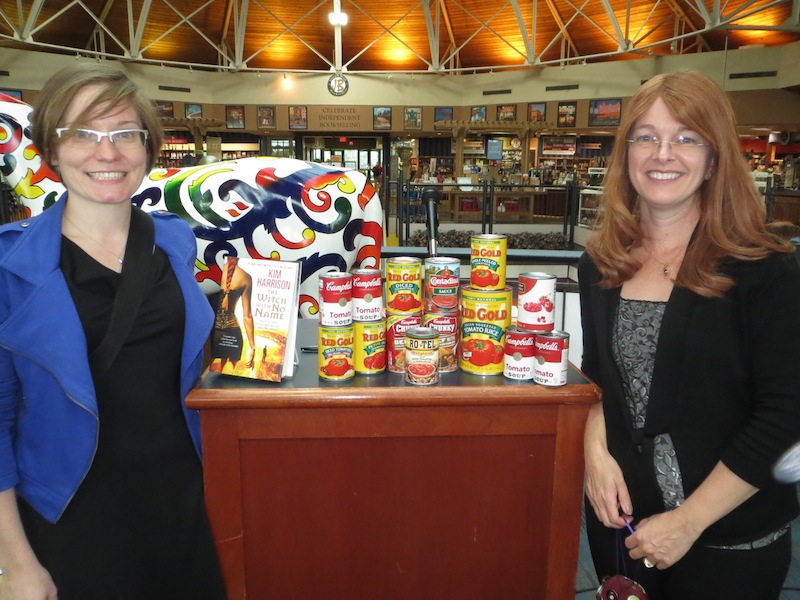 Jo-Beth was having a food drive of their own going on. Thanks guys for bringing in the tomatoes! They are much appreciated.
__________________________________________________________
Warren County Public Library, Bowling Green, KY
Warren Public LIbrary was a great crowd! I was concerned that the two and a half hour drive between Bowling Green and Lexington Jo-Beth might canabalize each other, but both venues were well attended. We had a little difficulty finding the totes, so we had a longer than usual Q&A, but the questions were great, and I don't think anyone minded--especially when Guy gave me a workout running back and forth to give them away.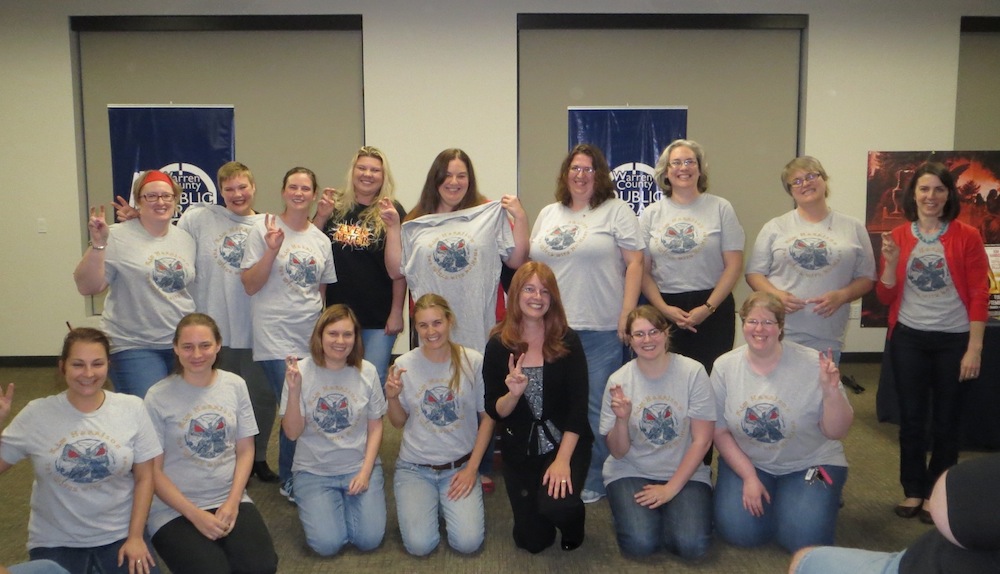 My Bowling Green roadies! Thanks guys for coming out to get your book signed. Apparently we cleaned Bowling Green out of those first edition blue butterfliy copies, but there are lots in Lexington Jo-Beth.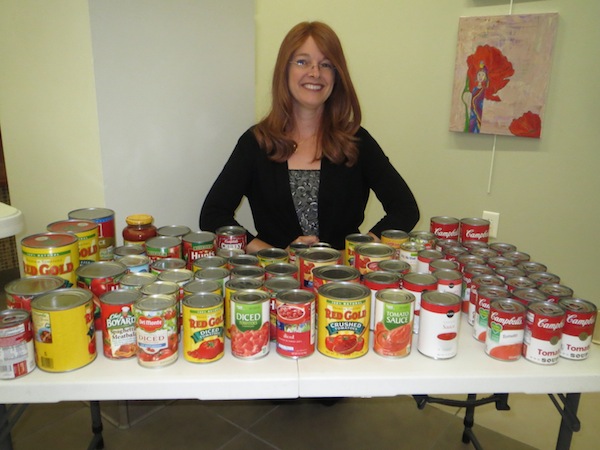 And again your generocity was gratifying. Thank you, everyone who brought out tomatoes for the canned food drive. You never cease to amaze me.
________________________________________________________
Books-A-Million, Birmingham, AL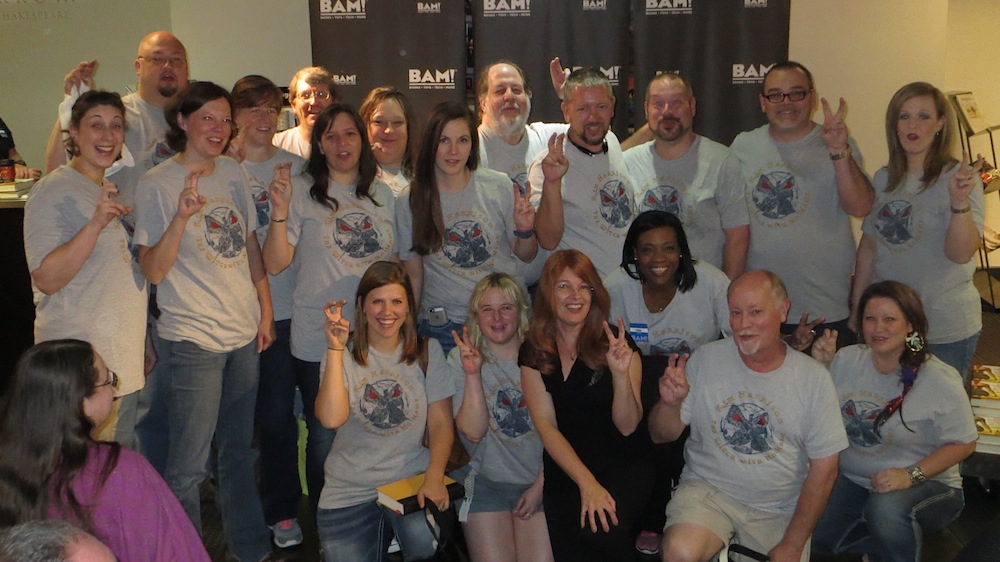 Birmingham! You were so welcoming. I was so surprised to see the number of tour t's, but Guy wasn't. ;-) We had a wonderful event with the tote giveaways and lots of great questions. I ran into my most-frequent event go'er (ten signings and counting!) and lots of event newbies. I left lots of signed stock, so if you missed the event, you still have a chance to pick up one for yourself.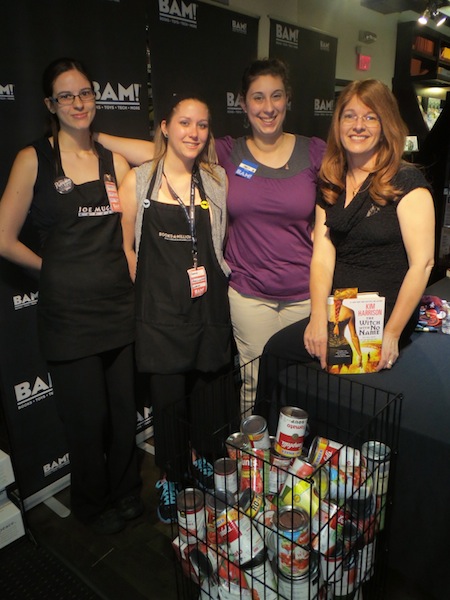 It's hard to see, but we got TONS of tomatoes. Thank you so much, guys, for being so generous!
__________________________________________________________
Powell's Books, Beaverton (Portland) OR
Copperfield's Bookstore, Petaluma (San Francisco) CA
Jean Cocteau Cinema , Santa Fe, NM
Buns and Roses Romance Tea for Literacy, Dallas, TX
Murder by the Book, Houston TX
Nicola's Books, Ann Arbor (Detroit) MI
Second half of the tour is at a new page to help lower loading times.
__________________________________________________________
- Back to the Event's page -
Nicola's / JoBeth Cincy / B&N Minneapolis / B&N Pittsburgh / Northshire / B&N New York / Ridgefield Library / Boston PL / Quail Ridge / BAM Columbia / Fox Tale / Garden District / Nicola's Books