Reading Order / Site Map / Blog / Books / Events / Bio / Freebies / Media







February 7, 2017


ISBN :978-1501108716


To get in on the free stuff, excerpts, and contests, sign up for Kim's sporadic newsletter. To suffer her deeper thoughts, subscribe to her blog and for her lighter, daily drama, twitter or FB is your best bet.






Original chapter seven that was cut from the regular text. Read it here in its entirety. Al, and someone from the past, or should I say . . . future?

Six City Tour more info
Tour photos! Did the Bunny Cam catch you?


Trisk and her hated rival, Kal, have the same goal: save their species from extinction.

Death comes in the guise of hope when a genetically modified tomato combines with the government's new tactical virus, giving the paranormal species the choice to stay hidden and allow humanity to die, or to show themselves in a bid to save them.

But not everyone thinks humanity should be saved, and Trisk fights the prejudices of two societies to prove that not only does humanity have something to offer, but that when people are at their worst that the best show their true strength and that love can hold the world together.

Chapter One / Chapter Two / Chapter Three / Chapter Four / Chapter Five

Shirts for the tour are no longer available, but I will be carrying the "Don't Fix Me" shirts until I'm done with Peri. Click to order

Nicola's, my local store, is offering signed copies of The Turn. They will ship overseas.
Every hero, even the accidental ones, have a beginning. Don't miss this first look into the elite world of Peri Reed, government agency operative extraordinaire, and catch more of her character in The Drafter, the first book in the all-new suspense trilogy from #1 New York Times best selling author Kim Harrison.
.99 cent e-book novelette out now.
Currently a free read at XOXO for a very limited time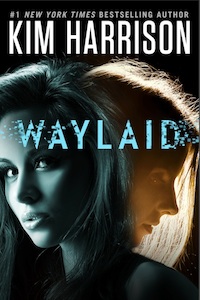 Hollows/Drafter mash up.
The magic of the Hollows runs full force into the technological sophistication of The Drafter when a device capable of carrying a city's data stream pulls Rachel out of the Hollows and between realities, marooning her in a world where the supernatural holds no sway.
To get Rachel and Jenks home, Peri, special ops agent of 2030, must decide what will chart her future: her blind trust in those who grant her power, or her intuition telling her to believe.
.99 cent e-book novelette.